Hydraulic Power Unit – Light Duty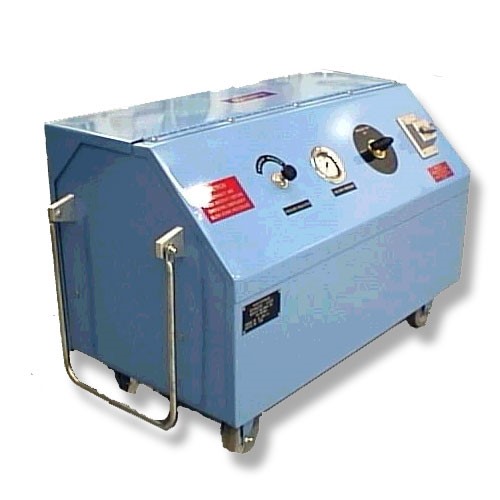 Perfect for gear retraction tests, leak checks, actuator functioning and operating controls. The large capacity return filter permits rapid cleaning of aircraft hydraulic systems. It has a low profile and has a folding handle for rolling to any position under the aircraft. This unit is designed specifically for smaller aircraft and helicopters with small hydraulic systems.
STANDARD FEATURES:
2 GPM FLOW RATE
300 – 2000 PSI OR 300 – 3000 PSI ADJUSTABLE PRESSURE
3 MICRON PRESSURE FILTER
10 MICRON RETURN FILTER
PRESSURE AND RETURN HOSES (10 feet)
FOLDING HANDLE
MOUNTED ON CASTERS FOR EASY PORTABILITY
AVAILABLE WITH SINGLE PHASE OR 3-PHASE POWER REQUIREMENTS
STAINLESS STEEL RESERVOIR (2 gallon)
PRESSURE GAUGE
FLUID THERMOMETER
INPUT POWER CORD (25 feet)
INTERNAL STORAGE OF FLUID HOSES AND ELECTRICAL CORD
DIMENSIONS: Length: 34in
Width: 18in
Height: 22in
FINISH: POLYURETHANE PAINT
PART NUMBERS:
SL-300-1 – 110 OR 220 VOLT, 60 HZ, 1 Phase, 300 – 2000 PSI
SL-300-2 – AIR OPERATED
208–230 / 440–460 VOLT, 60 HZ, 3 Phase, 300 – 3000 PSI
NOTE: Maximum flow will be reduced by 17% on 50 HZ systems.
OPTIONS:
08 – Return Fluid Sight Glass
30 – Hour Meter
FLUIDS:
Option A – MIL-H-5606 Fluid (Standard)
Option B – SKYDROL
Option C – MIL-H-83282
Option D – HYJET IV
Option E – Mobile DTE-25
Option F – DOD-L-85734
Option G – MIL-PRF-87257
Other fluids available upon request.