Hydraulic Power Unit – Heavy Duty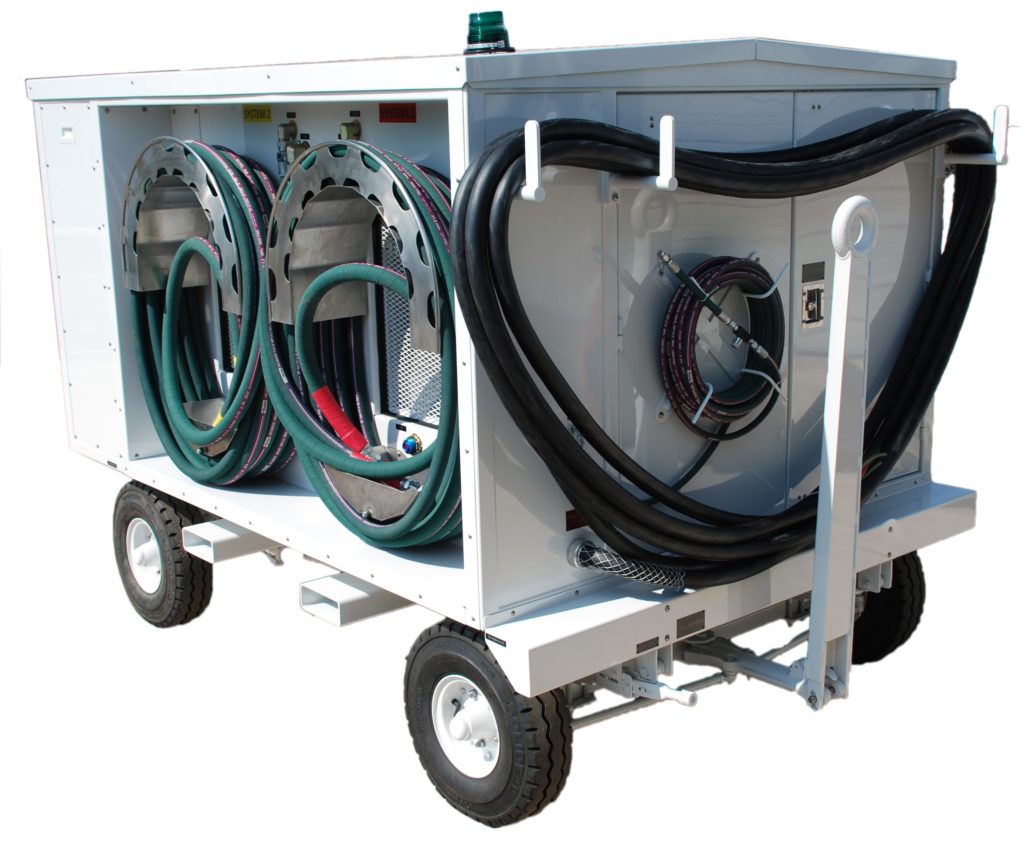 The SL-700 is a heavy-duty hydraulic power unit designed for use in servicing airliners from the B737 to B777, DC10 to MD-11, Airbus 320 to 340 as well as all corporate aviation aircraft. The unit provides filtered and pressurized fluid for all tests of aircraft hydraulic systems. It is offered in three basic models, 32 GPM, 40 GPM and 60 GPM.
STANDARD FEATURES:
ADJUSTABLE FLOW RATE
ADJUSTABLE PRESSURE (300-3500PSIG)
DIAL FACE FLOW METER
DELIVERY PRESSURE GAUGE
RETURN FLUID THERMOMETER
RETURN PRESSURE REGULATOR
OVER-TEMP & LOW FLUID WARNING
LOW BOOST PRESSURE SHUTDOWN
OVER PRESSURE SAFETY VALVE
PRESSURE FILTER (3 micron)
RETURN FILTER (10 micron)
FILTER DIFFERENTIAL GAUGES & INDICATORS
OIL COOLER WITH ELECTRIC FAN
PRESSURE AND RETURN HOSES (25 feet)
BOOST PUMP
PRESSURE COMPENSATED VARIABLE VOLUME
PISTON PUMP w/ LOAD SENSE
INPUT POWER CORD (50 feet)
STAINLESS STEEL RESERVOIR (50 or 100 gallon)
RESERVOIR SELECTOR VALVE
RESERVOIR FLUID LEVEL INDICATOR
PRESSURE & RETURN SHUT-OFF VALVES
FLUID SAMPLE VALVE (online or bottle sample)
RUNNING WARNING LIGHT
HOUR METER
HOSE & ELECTRIC CORD STORAGE RACKS
ALL WEATHER CABINET
440-480V, 3 PHASE, 60HZ
HEAVY DUTY MOTOR STARTER WITH
OVERLOAD PROTECTION AND RESET
ELECTRIC SERVICE DISCONNECT
TOWBAR w/ STEERING AXLE & BRAKE
PNEUMATIC TIRES
DIMENSIONS: Length: 96in
Width: 72in
Height: 70in
FINISH: POLYURETHANE PAINT
PART NUMBERS:
SL-700-32 – 0-32 GMP FLOW RATE
SL-700-40 – 0-40 GPM FLOW RATE
SL-700-60 – 0-60 GPM FLOW RATE
NOTE: Maximum flow will be reduced by 17% on 50 HZ systems.
OPTIONS:
08 – Return Fluid Sight Glass
09 – Dual System (2nd Pressure & Return Hose w/Shut off Valves)
14 – 50-foot hoses
41 – 50Hz Motor
47 – Ram Air Turbine (RAT) – Test Instruments
48 – Diesel Engine
FLUIDS:
Option A – MIL-H-5606 Fluid (Standard)
Option B – SKYDROL
Option C – MIL-H-83282
Option D – HYJET IV
Option E – Mobile DTE-25
Option F – DOD-L-85734
Option G – MIL-PRF-87257
Other fluids available upon request.