Hydraulic Power Unit – Electric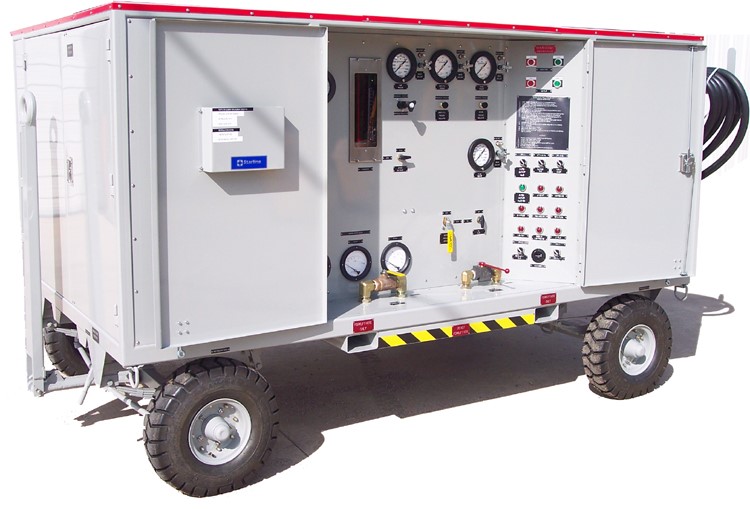 The SL750 was designed and built to fully service tilt-rotor and military aviation aircraft hydraulic systems.  Simplified operation, completely self-contained.  Perfect for gear retraction tests, leak checks and operating controls.
STANDARD FEATURES:
ADJUSTABLE FLOW RATE (0-40gpm)
ADJUSTABLE PRESSURE (350-5800PSIG)
STAINLESS STEEL RESERVOIR (80 gallon)
PRESSURE AND RETURN HOSES (50 feet)
ELECTRIC HOSE REEL
INPUT POWER CORD (100 feet)          
VERTICAL FACE FLOW METER (gpm/lpm)
FLUID THERMOMETER (oF/oC)
DELIVERY PRESSURE GAUGE
RESERVOIR SELECTOR VALVE (HPU/AIRCRAFT)
FILTERS INCLUDE ELECTRIC INDICATORS
PRESSURE COMPENSATED VARIABLE VOLUME DISPLACEMENT PUMP w/ LOAD SENSE
BOOST PUMP SYSTEM
BYPASS DUMP VALVE
RETURN PRESSURE CONTROLS
AIRCRAFT RESERVOIR FILL & DRAIN
RESERVOIR RECIRCULATION SYSTEM
HEAT EXCHANGER
PRESSURE FILTER (3 micron)
RETURN FILTER (10 micron)
BOOST FILTER (10 micron)
RECIRC FILTERS (3 micron & water removal)
RESERVOIR DESICCANT BREATHER
RESERVOIR LEVEL INDICATOR
FLUID SAMPLE VALVE (online or bottle sample)
PRESSURE & RETURN SHUT-OFF VALVES
460-480V, 3 PHASE, 60HZ
DIMENSIONS: Length: 130in  (330 cm)
Width: 72in (183 cm)
Height: 75in (191 cm)
FINISH: POLYURETHANE PAINT
PART NUMBERS:
SL-750-40x 0-40 GPM FLOW RATE
(x denotes fluid type)
NOTE: Maximum flow will be reduced by 17%
OPTIONS:
HMI TOUCHSCREEN w/ PLC COMPONENTS
FLUIDS:
Option A – MIL-H-5606 Fluid (Standard)
Option B – SKYDROL
Option C – MIL-H-83282
Option D – HYJET IV
Option E – Mobile DTE-25
Option F – DOD-L-85734
Option G – MIL-PRF-87257
Other fluids available upon request.